Neighbour says Madeleine suspect rented allotment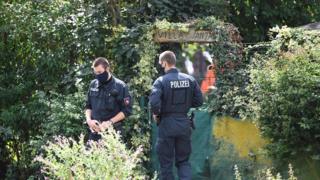 The main suspect in the Madeleine McCann case rented the allotment searched by police in Germany, a man who owns a neighbouring plot claims.
The allotment owner told the BBC that the suspect, Christian B, arrived there the year Madeleine went missing.
German prosecutors said the search at the site near Hanover was related to the investigation into Christian B, a sex offender in prison in Germany.
Police left the site on Wednesday following a two-day search.
Madeleine was three years old when she went missing while on holiday with her family in Portugal 13 years ago.
She…