New case in Sydney hotspot school; NSW premier says masks won't be mandatory Tougher restrictions for regional Victoria under consideration;…
US President Donald Trump has criticised political opponent Joe Biden's push to make masks mandatory across America.
Biden is calling for a nationwide protective mask mandate, citing health experts' predictions that it could save 40,000 lives from coronavirus over the next three months.
"Wearing the mask is less about you contracting the virus," Biden said. "It's about preventing other people from getting sick."
Trump said he trusts "the American people and the governors want to do the right thing".
President Donald Trump arrives to speak at a news conference in the James Brady Press Briefing Room at the White House, Thursday, Aug. 13, 2020, in Washington.
"We have urged Americans to wear masks… maybe they're great, maybe they're just good, maybe they're not so good, but what do you have to lose? You have nothing to lose," he said.
"We've been saying wear them when it's appropriate.
"But to the governors, we want to have a certain freedom, that's what we're all about.
"We have very different states facing unique differences and circumstances.
"We'll defeat the virus but not by hiding in our basements."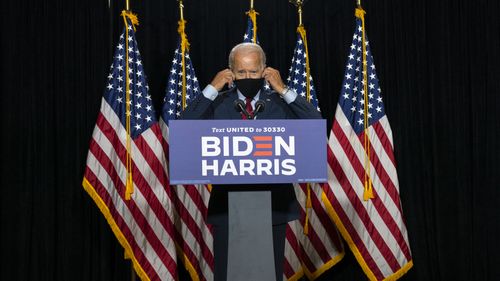 Democratic presidential candidate former Vice President Joe Biden removes his face mask as he arrives to speak at the Hotel DuPont in Wilmington, Delaware.
Trump also claimed foreign governments are calling the US for advice over its handling of the virus
"We are working with countries from all over the world, and they're trying to learn from us," he said.
The US has had more than 170,000 deaths and almost 5.5 million cases, making it the worst-hit country in the world.